Ready to install your window?
We'll take you through the process step-by-step. 
Download the PDF or follow along the steps below.

Download PDF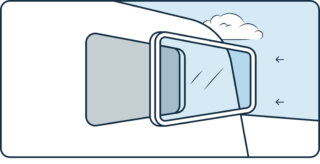 Step 1

Clean window opening on your vehicle.

Clean dust and oil from around rough opening.

Step 2

Unpacking your window

Remove window from crate and position on a clean, non-abrasive surface. Position clamp ring facing up.

Step 3

Remove clamp ring screws

Remove all clamp ring screws (making an index mark on 2 piece clamp rings will help insure correct replacement).

Step 4

Install bedding compound

First, wipe window flange with dry cloth to remove dust, then install bedding compound.

For bedding compound, use any of the following:

Butyl rubber tape
Double stick closed cell foam tape
100% silicone rubber sealant

(Do NOT use an adhesive)

Step 5

Position your new window

Position window in rough opening from outside making sure of correct placement. All sliding windows must have drains toward bottom.

Step 6

Reinstall clamp ring

Reinstall clamp ring on inside, taking care to use existing screw holes.

Note: When using silicone bedding, do not fully tighten clamp ring until silicone is dry. Over tightening when wet WILL cause leaks.

Step 7

Clean off excess bedding material.

Step 8

Remove protective masking

For acrylic or polycarbonate glazing only, remove protective masking immediately after installation.

Delay or exposure to sunlight (UV rays) will make masking removal difficult.